Rural Tools and Resources
On this page, you can find the latest stories highlighting the good work of our rural members. From innovations in AI to telehealth to new payment models, hospitals and health systems in rural areas are brainstorming bold new ideas worth showcasing here.
---
RURAL HEALTH SERVICES RESOURCES AND REFERENCES
---
DATA GRAPHICS
The AHA Resource Center continues its efforts to raise awareness on rural health issues through data. The AHA conducts an annual survey of hospitals in the United States. The definitive source for aggregate hospital data and trend analysis, AHA Hospital Statistics includes current and historical data on utilization, personnel, revenue, expenses, managed care contracts, community health indicators, physician models, and much more. Examples of how these data may be used for strategic rural health purposes may be seen in the datagraphics.
Rural hospitals provide access to obstetrical care close to home for millions of Americans. But now, that crucial lifeline is being threatened. The Obstetrics/U.S. Rural Hospitals datagraphic provides statistics on rural community hospitals in the U.S. and how many hospital births occur in them; the number of rural hospitals with obstetrics units and how many OB units have closed; and on maternity care deserts in the U.S. where access to maternity care is limited. See the datagraphic here. Data are based on AHA's Annual Survey database. For additional information visit AHA Maternal and Child Health and the AHA Resource Center.
Is my hospital rural? A new datagraphic provides a quick overview on the number of rural hospitals in the U.S. Rural hospitals are those not located within a metropolitan area designated by the U.S. Office of Management and Budget and the U.S. Census Bureau. Community hospitals are nonfederal, acute care hospitals open to the general public. See the datagraphic here. Data are based on AHA's Annual Survey database. For alternate rural definitions, visit RHIhub Am I Rural?
---
TOOLS
Hospital infection prevention tools. A new four-part tool is available to help hospitals and health systems estimate the cost and benefit of interventions to prevent health care-associated infections. For more on preventing health care-associated infections, see AHA's suite of free online training resources.
CAH Telehealth Guide. The Technical Assistance and Service Center (TASC) has partnered with the Northwest Regional Telehealth Resource Center (NRTRC) to produce an update to the Critical Access Hospital (CAH) Telehealth Guide. Recent federal guidance has been included in this edition.
AHA Executive Summary: Regional Networks: Improving Access to Behavioral Health Services. This resource provides insights for communities that want to improve access to behavioral health services through community partnerships. The report, based on in-depth interviews with senior health care and community leaders from five hospitals and health systems across the country, assesses key elements for building and maintaining a successful regional behavioral health network.
AHA Executive Summary: Regional Networks: Improving Access to Behavioral Health Services. This resource provides insights for communities that want to improve access to behavioral health services through community partnerships. The report, based on in-depth interviews with senior health care and community leaders from five hospitals and health systems across the country, assesses key elements for building and maintaining a successful regional behavioral health network.
Resources and Guidance to Help Implement the No Surprises Act. The AHA and Healthcare Financial Management Association have updated a set of frequently asked questions on uninsured and self-pay good faith estimates required as part of the No Surprises Act. For a complete set of resources and tools on the No Surprises Act, visit www.aha.org/surprise-billing.
Online Resource for Licensure of Health Professionals. As telehealth usage increased during the pandemic, FORHP funded new work with the Association of State and Provincial Psychology Boards to reduce the burden of multi-state licensure. The site provides up-to-date information on emergency regulation and licensing in each state for psychologists, occupational therapists, physical therapists assistants, and social workers.
CASE EXAMPLES
Pathways to Recovery
Improving Access and Quality of Maternal and Infant Services in Rural Iowa through a Regional Center of Excellence. . In May 2021, Iowa Governor Kim Reynolds proposed a Centers of Excellence pilot program to encourage innovation and collaboration among regional health care providers and access to maternal care for expectant mothers and their babies. St. Anthony Regional Hospital, Carroll, Iowa applied for and received a grant to be used toward improving access to and quality of maternal and infant care services with a focus on obstetrical care and deliveries.. Families from ten counties rely on St. Anthony as their hospital to deliver babies and this grant will help to ensure that quality health care remains accessible, affordable and close to home. Learn more.
Preparing for and Rebuilding from a Natural Disaster in Graves County, KY. . On Friday, December 10, 2021, an EF4 tornado thundered across western Kentucky. Graves County, KY is not only a community tasked with rebuilding, but also focused on the well-being of those who call the small western Kentucky town home. Jackson Purchase Medical Center, Mayfield, KY is doing its share and then some to care for the health of its community. Learn more.
Community Partnerships: Advancing Access to Behavioral Health in Rural Colorado. In April 2019, Vail Health announced its commitment of $60 million in funding over ten years to create Eagle Valley Behavioral Health (EVBH) and transform the landscape of care in rural Colorado. EVBH partnered with over 25 local organizations to collaborate on behavioral health initiatives and provide the critical change needed to ensure a long-term vision for a robust, sustainable behavioral health system. Learn more.
A Co-located Critical Access and Behavioral Health Hospital in Rural North Carolina. In November 2021, leaders at Cannon Memorial Hospital, Linville, NC formed Appalachian Regional Behavioral Health (ARBH) Hospital, a 37-bed, walk-in inpatient facility — and the first Critical Access Hospital (CAH) in the country to also house a behavioral health hospital on its campus. Cannon leaders formed the 37-bed hospital by converting an existing, 10-bed, distinct part unit, which had historically operated as part of the CAH. They also added 27 newly licensed psychiatric beds. Read their story here.
Lakewood Engage Tackles Food Insecurity in Rural Minnesota. Lakewood Engage is the cornerstone initiative of Lakewood Health System's community health division and the engine that drives all its food insecurity programs. Since 2013 it has evolved from simply connecting local produce growers to patients at its hospital-based Staples Area Farmers Market to constructing a comprehensive clinic-based referral program that prescribes local produce to patients through its "Food Farmacy" market. Read more.
Rural CAH in West Virginia Upgrades Security and Improves Safety. In 2019, leaders at St. Joseph's Hospital of Buckhannon in West Virginia, a critical access hospital, realized they needed to strengthen their security presence and add safety controls to their facility. Leaders added extra security and implemented a workplace violence training program called AVADE (Awareness, Vigilance, Avoidance, Defense and Escape/Environment), to educate staff and security officers on de-escalation techniques.
Examples from the Field: Regional Networks of Behavioral Health. Avera Behavioral Health offers a full suite of behavioral health care services including a comprehensive eCARE telehealth solution delivering services in 32 states. Partnering with primary care providers, family members and providers throughout the country via its telepsychiatry network, it serves the behavioral health care needs of rural communities throughout the nation. Read the case example here.
How Becoming a "Blue Zone" Advanced the Health of Klamath Falls, Oregon. Through collaboration with the Healthy Klamath Coalition, Sky Lakes Medical Center began a comprehensive initiative to improve the health of the population culminating in the creation of Klamath Works and recognition as a Blue Zones Community for which they won the prestigious Robert Wood Johnson Foundation Culture of Health Prize and 2021 AHA Rural Hospital Leadership Team Award.
Partnering to Improve Health and Wellbeing in Rural Minnesota. Led by Winona Health, the Winona Wellbeing Collaborative (WWC) is a group of partner organizations working to positively impact social determinants of health by removing barriers for residents experiencing health inequities. The WWC focused its efforts on addressing the fragmentation and silos between agencies and providers via implementation of a community HUB model. The Pathways Community HUB emerged as the most advanced evidence-based framework for community-based care coordination, and the model for the Winona Community HUB.
The Clinical and Business Cases for Opening a Maternity Care Unit in a CAH. There is no birthing center in Chatham County. Clients of clinics located in the western end of the county, must travel 45 minutes or more to places like UNC Hospital in Chapel Hill to deliver. To address this service gap Chatham County Department of Health, Piedmont Health Services, UNC Family Medicine and local medical providers and non-profits joined forces with UNC Chatham Hospital in Siler City to dedicate a wing of the hospital for the new maternity unit.
Transitional Care Nursing Program Improves Outcomes and Reduces Costs in Rural Vermont. A Transitional Care Program builds upon an integrated care delivery system that empowers patients to actively manage their care. Transitional Care Nurses at the Southwestern Vermont Medical Center partner with pharmacists and primary care providers, social workers and others to help patients navigate the system, identifying and closing gaps and better coordinating care for medically complex patients and high emergency department utilizers.
Advancing Transcultural Care through Cultural Competency. To improve care for its American Indian and Latino patients, St. Charles Madras, a Critical Access Hospital in Oregon, created a Patient Family Advisory Council, implemented cultural competency trainings, and installed new artwork to better represent its community. The participation rate in the Press-Ganey patient satisfaction survey and HCAHPS scores show an increase in survey participants and a drop in complaints.
COVID-19 and Enhancing Vaccine Confidence
Hospital addresses unexpected COVID-19 surge and need for vaccines. St. Patrick Hospital in Missoula, Montana, part of the Providence Health System, knows that not all COVID-19 surges look the same that is the ages of the patients were getting younger and younger. To encourage more people to get vaccinated, St. Patrick Hospital set up an online COVID 19 resource desk as part of the Providence Health System network, with the latest COVID-19 stats, vaccine events, vaccine science and more. Learn more about the hospital's push.
Wyoming Hospital urges its community: Help us keep critical services open. Sheridan (Wyo.) Memorial Hospital is sharing data on rising COVID-19 cases and hospitalizations to highlight the impact on hospital resources in order to encourage its community to get vaccinated. Read about the hospital's efforts to get more shots into arms as statewide COVID-19 vaccination rates continue to lag under 50%.
Arkansas hospital strikes balance between urgency and empathy in its COVID-19 vaccination approach. Michael Stewart, CEO of Benton, Ark.-based Saline Health System, has stressed a "delicate balance" between remaining urgent, but respectful, when it comes to COVID-19 vaccine hesitancy. Read more about adopting an even-keeled approach when discussing vaccination with reluctant individuals, including parents of children.
Nurse Urges her Rural Alabama Community to Get Vaccinated. A nurse in Tuskegee, Ala., is leading by example: writing a blog on the benefits and safety of COVID-19 vaccines and encouraging others in her rural community to get vaccinated. Cheryl Owens, RN made it her personal mission to educate veterans and all Tuskegee residents about the vaccine's benefits and safety. She works as a registered nurse at Central Alabama Veterans Health Care System (CAVHCS).
Hospitals share COVID-19 survivor stories to urge vaccination. To emphasize the importance of getting the COVID-19 vaccine, hospitals and health systems are sharing first-person testimonies from COVID-19 survivors. Read several of these stories, including that of a young newlywed hospitalized with the coronavirus at Covington County Hospital in Collins, Miss., just two months after getting married.
Rural Hospital Bolsters COVID-19 Vaccination Numbers. Guadalupe County Hospital is a 10-bed critical access hospital in rural Santa Rosa, New Mexico. Serving a community that trends heavily toward an older population of Hispanics and Latinos, this small hospital is a beacon of hope in the Sunbelt region, which has had trouble slowing the novel coronavirus. What's making the difference in New Mexico when many other Sunbelt states are having trouble containing the virus is trust. The numbers speak for themselves.
View the Archives of Rural Hospital Interventions for Coronavirus (COVID-19) Case Studies
---
PREVIOUS YEARS' CASE EXAMPLES
Rural Provider Uses Partnerships to Expand Behavioral Health Services Nationwide. As a rural provider, Sioux Falls, S.D.-based Avera Behavioral Health sees a high rate of suicide and drug overdoses. To help manage these cases, Avera created a full suite of behavioral health care services, including a comprehensive eCARE telehealth solution delivering services in 32 states. Read more in this case study, including details on how Avera uses partnerships via its telepsychiatry network to serve the behavioral health care needs of rural communities nationwide.

Data-Driven Initiative Drives down Disparities in Rural Health Care. Identifying the underlying factors that contribute to disparities in health outcomes for vulnerable rural populations and developing strategies to address these issues remain constant challenges, but progress is being made. OSF Healthcare's Health Equities Action Lab (HEAL) is employing a data-driven strategy to address breast cancer disparity outcomes among its Illinois patients, 65% of whom live in rural areas.

The Hospital as a Convener in Rural Communities. In this case study, AHA's Future of Rural Health Care Task Force explores how rural hospitals can establish themselves as conveners in their communities, working alongside other stakeholders to improve health outcomes.

Partnering to Improve Birth Outcomes in a Rural Community. In 2015, Kearny launched the Pioneer Baby program in partnership with KU School of Medicine-Wichita to improve pregnancy and birth outcomes by reducing pregnancy complications, premature births, low- or extremely high-birth weight, and cesarean sections while increasing breastfeeding rates. The hospital also tapped outside funding, such as grants and local large employers, to upgrade computer software and purchase a 4D ultrasound machine.

Advancing Rural Telehealth and Addressing Its Challenges. The telehealth program at a small Texas hospital serves as one example of how trustees who closely interacted with administrators helped to lead the hospital's timely use of telehealth during the COVID-19 pandemic. At Yoakum Community Hospital, a 23- bed critical access hospital, leaders shared plans with its board for fast-tracking telehealth services that had begun two years prior for psychiatry and primary care. Read the story in AHA Trustee Insights.

Exploring Options to Deploy Capitated Payments to Enhance Primary Care in Rural Settings. This case study highlights examples of capitated payment agreements that serve to increase the use and improve the quality of primary care services in rural communities. These arrangements are deployed at several levels of care management and delivery in the public and private sectors, with payment to parties such as managed care organizations, community health workers and physicians. Most of these models are enmeshed in larger, multi-agreement payment models and serve as an example of how to leverage capitated payments for specific services in conjunction with other payment methodologies such as fee-for-service, pay-for-value, and global budgeting.

Doulas Enhance the Birthing Experience - Brookings Health System, Brookings, SD. Brookings Health System established the state's first free doula program for delivery and postpartum care, staffed by volunteers. The nine-year old program also receives high marks from patients and hospital staff.

Best Practices Approach to Treating Maternal Hemorrhage - Titus Regional Medical Center, Mount Pleasant, Texas. Since implementing best practices related to maternal hemorrhaging, Titus Regional Medical Center's maternal morbidity rate related to blood loss has been reduced significantly. The hospital employs a stage-based approach to maternal hemorrhage, simulates for staff emergent hemorrhage situations and provides intense education regarding the physiology of a hemorrhage.

Samaritan Health Services North Lincoln Hospital and Pacific Communities Hospital in Lincoln County, Ore. have battled a COVID-19 surge since June 4. Through their experience they have lived and learned the significance of emergency disaster planning, community collaboration, supply chain challenges for PPE and testing and that cultural awareness leads to cultural competency.

How Clarke County Hospital (CCH), Osceola, Iowa is expanding its telehealth services to include home monitoring of COVID-19 patients and why is a response to a local spike. We hear from Brian Evans, CEO of CCH in Osceola, Iowa and Corey Martin, senior director at the Iowa Hospital Association, who applied for and received federal funds to expand telehealth services to include home monitoring.

Healthy St. Landry Alliance leads a coordinated community response: Opelousas General Health System in St. Landry Parish explains how its associated community health alliance, a consortium of more than 25 local partners, address social determinants of health and other issues that extend beyond hospital walls during the COVID-19 pandemic in rural Louisiana.

Managing COVID-19 in a Rural Community: St. James Parish Hospital, Lutcher, Louisiana anticipated the dangers of the COVID-19 pandemic and early on, the hospital connected with community partners to share information via social media and otherwise.

Wilson Medical Center Implements Creative Care Alternatives to Address Covid-19: Wilson Medical Center, Neodesha, Kan. Rural communities' patients are typically older than those in metro communities, and with the onset of COVID-19, many seniors are reluctant to leave their homes. Access to providers is strained as people avoid hospitals and clinics, yet are still in need of care. Wilson Medical Center (WMC) in Neodesha, Kan., has found a solution to this challenge by instituting consumerconscious caring with its curbside lab and clinics.

Four Stages of Planning and Implementation During Covid-19: One Rural Hospital's Preparations, Marshall Medical Center, Placerville, CA. Marshall Medical Center in Placerville, Calif., has been and continues to prepare for a potential patient surge related to the COVID-19 pandemic. At the same time, it continues its actions and education to help patients and communities "bend the curve down" and slow the progression of the disease. In this case study, we hear from Siri Nelson, CEO of Marshall Medical Center, about the four stages of planning and implementation her hospital has undertaken to prepare for COVID-19.

Rapid Deployment of Telehealth Services for Rural Hospitals Fighting COVID-19 - Riverwood Healthcare Center, Aitkin, Minn. How Riverwood Healthcare Center (RHCC) in Aitkin, Minn., quickly deployed Zoom for Business to virtually treat patients amidst the coronavirus pandemic. Although the county has not seen any positive COVID-19 cases yet, Riverwood Healthcare Center in Aitkin, Minn., a 25-bed critical access hospital located about 130 miles north of Minneapolis, is actively preparing.

Rural Covid-19 Case Study: Surviving a Covid-19 Surge - Margaret Mary Health, Batesville, IN, Margaret Mary Health (MMH), located in Batesville, Ind. (population 7,500), is a not-for-profit, critical access hospital employing nearly 850 team members serving a population of more than 30,000 residents. MMH saw a surge of COVID-19 patients in early to mid-March and is proactively monitoring the coronavirus pandemic and taking aggressive precautions to stay ahead of the surge.

Rural Hospital Shifts Operations In Anticipation Of Covid-19 Surge - King's Daughters Medical Center, Brookhaven, Miss. King's Daughters Medical Center (KDMC) is implementing a variety of strategic and operational shifts in anticipation of a surge of COVID-19 patients in April. Though the 99-bed hospital is in a rural community, it expects to be negatively affected by higher rates of the coronavirus from New Orleans, which is two hours south.

Addressing Social Determinants of Health to Save the Lives of Seniors SoHum Health - Humboldt County, CA, The first case of COVID-19 in Humboldt County, Calif., was confirmed on February 20, 2020. Through SDOH, SoHum Health aims to get in front of the virus and save lives of its 3400 seniors.

KSB Hospital Response for Coronavirus (COVID-19) - Katherine Shaw Bethea Hospital, Dixon, Ill. At Katherine Shaw Bethea Hospital in Dixon, Ill., health care leaders knew they had to act quickly to create a rapid response plan. Their solution: drive-through testing for COVID-19.

Community Health Workers at Northeastern - Vermont Regional Hospital, St. Johnsbury, Vt. Northeastern Vermont Regional Hospital (NVRH), St. Johnsbury, VT and its Community Connections (CoCo) program has been on the vanguard of the CHW initiative. Their outcomes are impressive.

Artificial Intelligence in Rural Health Care: Where to Begin? >Artificial Intelligence (AI) means many things to many people, but to the consumer it means convenience. At Winona (Minn.) Health, AI has been introduced as a way to reduce cost, improve access and improve the patient's experience of care. To date, that experience is running 97% favorable.

Building Primary Care from the Ground Up: Training Rural Residents in Williston, ND. Entering its fifth year, the program has graduated 8 family physicians four of whom have stayed and practice in western North Dakota.

Providence Health-Fairfield Emergency Room Winnsboro, SC Hospital-based Freestanding ED. Perhaps not the first choice, but ultimately the best choice for this rural community, the new ER stabilizes what has been a steady decline in health care services in Winnsboro over the past few years.

Walking the Path toward Self-determination and Improving the Populations' Health the "Nuka" Way. Cherokee Indian Hospital strives to be a "Cherokee community" hospital continuously improving the health status of the tribe and sensitive to the culture and values of the community.

Dare County's Employee Wellness Program at Outer Banks Hospital. The hospital's collaboration with the Dare County Department of Public Health − in particular, as a contractor for the county's employee health and wellness plan – provides a potent example of how hospitals in rural areas can make the most of local partnerships to improve the health and well-being of the communities they serve.

The Value Initiative Members in Action: Dartmouth-Hitchcock Medical Center – Lebanon, N.H.

The Value Initiative Members in Action: Redesign the Delivery System: Purchase of Retail Pharmacy Enhances Services to the Community

The Value Initiative Members in Action: Presbyterian Healthcare Services – Albuquerque, NM

The Value Initiative Issue Brief 4: How Rural Hospitals Improve Value and Affordability
---
Strategies for Rural Health Leaders' Success in a Post-COVID-19 World Webinar and Playbook
In this webinar rural hospital executives and board leaders discuss how boards can work with all levels within their communities to build vaccine confidence and trust in the safety and efficacy of the COVID-19 vaccine for families and communities.
---
This playbook is designed to guide rural hospital leaders and board members around strategic thinking and local problem solving related to the COVID-19 vaccine and related COVID-19 response, as we as a country attempt to move past the pandemic.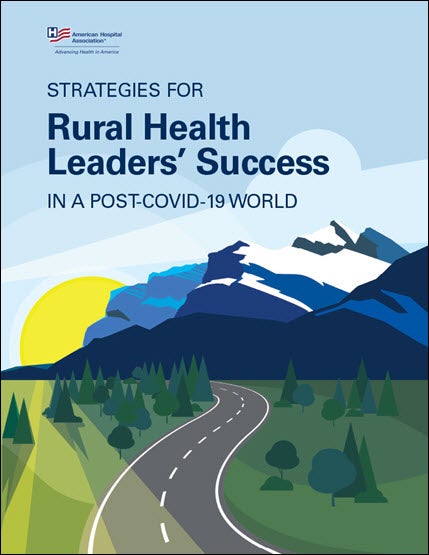 No resources of this type available